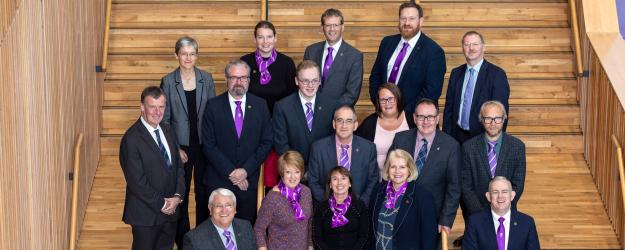 BOARD AND GOVERNANCE
The Board of Management was established under the provisions of the Further and Higher Education (Scotland) Act 1992. The Board is the governing body of our College, responsible for setting the institution's strategic direction and for monitoring its performance. Along with the other Glasgow colleges they also deliver the aims and outcomes of the Regional Outcome Agreement for Glasgow.
The Board consists of a maximum of 18 Board members, including the Principal, 2 Student Members, and 2 Staff members (Teaching and Support). The remainder comprise individuals with experience in industrial, commercial, financial, educational, and other professional areas. They bring their expertise and experience on a voluntary basis.
Since August 2014, the Glasgow Colleges' Regional Board is responsible for appointing new board members to the three Glasgow College Boards, and for setting regional strategic priorities.
All Board of Management and Board Committee agendas, minutes and papers will be published and available in this section in due course.
Alisdair Barron MBE
---
Alisdair Barron is the Chair of our Board of Management. He has a wealth of experience as a human resources and industrial relations specialist in the avionics, brewing, leisure and soccer industries, civil service and NHS. He is also a director of two national youth employment and skill development charities and chair, chief executive and president of three European paediatric palliative care charities. Alisdair is the longest serving member of Scotland's Children's Panel and received an MBE in 2006 for his work with sick children in Romania.
Dylan Duff
---
Dylan is the Student President of the Students' Association for 2019/20, last year he studied for a HNC in Social Services. Dylan was also the Education Officer on the Student Exec team where he focused on improving the student learner experience, especially within learning and teaching. Dylan fundamentally believes that students' have the right to be listened to and respected, and will do anything he can to improve the student experience whilst they are studying here at the college. Dylan works between City and Riverside Campuses at both Students' Association offices, second floor in City Campus and ground floor In Riverside Campus. Dylan is always keen to hear from students about their experiences of studying at City of Glasgow College.
David Eaton
---
David currently works as Curriculum Leader for our School of Computing, based at City campus on Cathedral Street.
Dr Sarah Erskine
---
Sarah joins us with a varied career background, having mustered a successful track record in higher education to leading local SME charities as Chief Executive. Educated to PhD level at a top university, she brings a variety of skills and experience in teaching and research, equalities, project management, partnership development, fundraising and tendering, and governance.
Sarah recently fulfilled one of her goals to move into the public sector and now works for Skills Development Scotland. At this stage of her career, Sarah is keen to hone her interest in how individual choices and labour market demand shape the management of teaching and learning post-school.
Sarah maintains her passion for lifelong learning, and staunchly believes in the socio-economic equality of opportunity and routes out of poverty it can bring to everyone. She is both humbled and excited to join the City of Glasgow College Board and support the work of this great institution.
Prof. Jim Gallacher
---
Jim is Emeritus Professor of Lifelong Learning at Glasgow Caledonian University, and Honorary Professor at the University of the Highlands and Islands and the University of Stirling. He established the Centre for Research in Lifelong Learning (CRLL) at Caledonian in 1999, and was co-director until 2008. During his membership of the Scottish Funding Council from 2005-10, he chaired the Access and Inclusion Committee. He was also a member of the Glasgow College of Nautical Studies Board and now chairs the Scottish Universities Association for Lifelong Learning. Jim was an adviser to the Scottish Parliament's Enterprise and Lifelong Learning Committee for their inquiry into lifelong learning.
George L Galloway
---
George Galloway is the owner and Director of GLG Consultancy Ltd, an Executive Coaching, HR, Learning and Safety Consultancy working with SME's, Public Sector and Third Sector businesses across Scotland. George is also an associate consultant with DPG delivering CIPD accredited management qualifications to students, and also an associate HR and L&D consultant with CIPD.  He is a Past Chair of the Chartered Institute of Personnel (CIPD), and National Council member.
Prior to taking up a career in HR, George was an experienced Operator and Production Manager in the Paper Industry, with over 20 years' experience in operating and maintaining process plant & equipment. Early in his career, George was a senior shop steward. After leaving the Paper Industry George managed Learning & Development for a global oil company for nearly 10 years, recognised as a technical authority for competence assurance, coaching and development and apprentice management.
George currently holds a number of non-executive director positions (third sector & operational), coaching and mentoring Owners / Directors and supporting day-to-day management of the company board.
Lorna B Hamilton
---
Lorna graduated as a Quantity Surveyor and has worked for some of the largest building contractors in the UK and has been involved in the development and construction of some of our key infrastructure in particular within the healthcare, education and aviation sectors.
She is keen to promote the benefits of the construction industry both to society and as a career path. She currently serves on the Scottish Boards of the RICS and Women in Property and acts as a mentor to women within the industry.
Lorna has been a lifelong advocate of the Girl Guiding movement and the benefits it can bring to the development and confidence of girls.
Karen Kelly
---
Karen has recently moved into freelance working specialising in financial management, organisational governance and programme oversight and assurance.  From 2012 to 2015 she was Head of Corporate Programmes at City of Edinburgh Council, responsible for overseeing and supporting a diverse range of projects. Prior to this, she was Head of Financial Services and also spent time as Treasurer to the Royal Edinburgh Military Tattoo and Forth Road Bridge. Before joining City of Edinburgh Council in 2006 she was Head of Finance and ICT at East Dunbartonshire Council. Karen is a qualified member of the Chartered Institute of Public Finance and Accountancy, serving as Chair in 2008-09, and is a member of the Institute Council.
Robyn Lambert
---
Robyn is the Vice President of Social and Activities. She is also studying Sports Therapy and is currently doing her second year of her HND. She is passionate about exercise and is hoping to bring that into her role as Vice President.
Paul Little
---
Paul Little is the founding Principal and CEO of Scotland's largest technical and professional skills college.  A Harvard Business School graduate and distinguished academic, Paul brings a wealth of experience in tertiary sector transformation, curriculum innovation and performance excellence.  
He has for the past 28 years successfully led and reshaped five UK colleges earning a national and international reputation as a visionary reformer, successful change agent, merger specialist and thought leader in redefining college education. He has successfully pioneered the merger of Glasgow's specialist colleges into a world-class super college for 40,000 students.
As a qualified yacht skipper, Paul enjoys sailing. He served with HM Coastguard as a part-time search and rescue Officer for 30 years, completed several tours of duty with the US Coastguard and was decorated three times by the Queen.  
Graham Mitchell
---
Graham is a chartered surveyor with a background in facility and project management, including a variety of development types and values. He is currently MD of a family-run property investment company based in Glasgow. Before this, he was director of a property service business for 18 years, overseeing its growth into a multi-disciplined organisation with offices across Scotland.
Stuart Patrick
---
Stuart Patrick is Chief Executive of Glasgow Chamber of Commerce, committed to the business success of Chamber members and championing the economic growth of the Glasgow city region.  Stuart joined the Chamber in 2009 having previously spent 17 years at Scottish Enterprise specialising in urban economic development and the transformation of Glasgow where he led Scottish Enterprise Glasgow. He qualified as a Chartered Accountant with Ernst & Young, has an MBA from Strathclyde University and an accountancy degree from Glasgow University.  He is a member of the Glasgow Economic Leadership board, chair of the Wise Group and sits on the boards of Clyde Gateway, Scottish Opera and Glasgow Science Centre.  
Ronnie Quinn
---
Ronnie is the Owner and Director of Anchor Rock Consultants, providing interim management and consultancy. He has over 30 years experience in general management, the renewables and electricity industries. Ronnie's professional career began as a solicitor where he worked both in private practice and in local government. He then moved into the electricity markets' sector where he was Managing Director of the company administering the market in Scotland. In 2009 he began work for The Crown Estate where he led the transfer of its functions in Scotland to Scottish Ministers, being Crown Estate Scotland's first Chief Executive. Most recently he has been the Interim Chief Executive for the Scottish Council for Development and Industry.
Audrey Sullivan
---
Audrey has extensive experience in career and employability development. This has included 17 years as Deputy Director and then Head of the award-winning University of Strathclyde Careers Service, where she ensured that services to students constantly developed to meet changing employer needs and recruitment methods. At Glasgow Caledonian University Audrey was responsible for the design and implementation of the institution-wide Employability Strategy, aligned to the Student Experience Strategy and Learning and Teaching Strategy.
As an active member of her professional body, Audrey contributed to many UK and Scottish Government consultations and publications and to employer and labour market fora. She led a significant development to join up all Scottish HE graduate vacancy systems, resulting in a massive increase in access to vacancies for final year students and new graduates.
On retiring - early - Audrey was presented with the 'Significant Influence on the UK HE Careers Profession' award.
Dr Rebekah Widdowfield
---
Rebekah is Chief Executive of the Royal Society of Edinburgh, Scotland's National Academy, an educational charity established in 1783 for the advancement of learning and useful knowledge. Rebekah worked in academia for a number of years researching homelessness and social exclusion, before joining the Scottish Government in 2001 to pursue a more applied research career. She became a senior civil servant in 2008 in which capacity she supported a number of strategic advances including establishing and then working with the Commission on Widening Access to support a more holistic approach to enhancing access to university to students from deprived backgrounds. Committed to social justice, Rebekah is a trustee of the Scottish Book Trust and Centre for Homelessness Impact.
Lesley Woolfries
---
After graduating from the Mackintosh School of Architecture, Lesley joined Glasgow architects Holmes Miller in 2001, where she is now an Associate Director. She now works across the residential, commercial, sports and educational sectors and is a keen mentor of young talent in the construction industry. Lesley served on the Central Scotland branch committee of Women in Property for five years and was branch chairman in 2008. Passionate about sport, she also represented Scotland at the World Netball Championships in New Zealand and Jamaica.